Welcome to Praslin Pro Divers Seychelles
Welcome to Praslin Pro Divers Seychelles
Welcome to Praslin Pro Divers Seychelles
Welcome to Praslin Pro Divers Seychelles
Welcome to Praslin Pro Divers Seychelles
Welcome to Praslin Pro Divers Seychelles
Welcome to Praslin Pro Divers Seychelles
splendide, tanto da vedere, dalle razze, alle splendide tartarughe, agli squali pinna bianca, alle aragoste e tanto altro ancora. Sei volete immersioni in relax e sicurezza Jean Paul e Pro divers sono super consigliati!
Ho trovato questo diving center leggendo le varie recensioni. Jean Paul, il proprietario, è una persona splendida e molto simpatica e disponibile come gli altri componenti del suo staff. Il diving e la barca sono puliti e ben tenuti, le attrezzature nuove e ben manutenzionate. Ottima competenza sia in superficie che durante le immersioni. Briefing ben fatti e chiari. Rispetto delle procedure d'immersione in sicurezza. Nell'intervallo tra un'immersione e l'altra frutta, acqua e biscotti fatti in casa per tutti! Tutto questo unito al fatto che organizza uscite con massimo sei subacquei oltre lo staff, rende il centro veramente ottimo. Ho fatto con lui 6 immersioni, in sei punti differenti in tre giorni diversi in quattro differenti isole. Sempre
Jean Paul est un moniteur patient et passionné. 3 super plongées dans des spots magnifiques avec tortues requins raies….. encore merci pour ces moments !!
Superbe moment ! Nous sommes allé debut septembre, le temps était pluvieux mais sous l eau,tout était très claire et manifique,de très beaux poissons de différentes tailles et couleurs. Un tout grand merci à jean paul pour sa douceur qui m'a énormément aidé pour mon bâteme
Nous avons fait notre baptême de plongée avec Jean-Paul. C'était une expérience au top de A à Z. Jean-Paul est très pro et fait tout pour qu'on soit en confiance même pour les plus stressés. Petit briefing au début puis passage rapide à la piscine de l'hôtel pour mettre en pratique les principes de base avant de partir en plongée. J'ai jamais vu un baptême aussi complet. Enfin la beauté des fonds marins sublime l'expérience et donne envie de recommencer.
We did a baptism with Jean-Paul. Pedagogue, reassuring and zen. Theoretical lesson and short training in the hotel swimming pool with the equipment before the big dive in the giant aquarium. Great coaching from start to finish. Superb experience +++! 👍
JP is a fantastic instructor and we highly recommend him as your scuba diving trainer if you're a beginner like us and want to get your PADI certification. He made us feeling very comfortable while moving our first steps as scuba divers. He's careful and makes sure everyone is ready and up to speed while teaching. He's passionate about what he does and this really makes the difference for his divers. If we could give more than 5 stars, we would!
All the reviews I read were true. Excellent dive center with great attention and vibes. I did two days of diving with them – each morning 2×50 mins dives (or 50bar whichever came first). We saw tons of marine life. They know the area well and were really helpful and encouraging, as I'm not the most experienced diver. They give you fruit in between the dives. Thanks to JP and Leroy for excellent diving in Praslin!
Excellent diving! JP is very professional and experienced. He knows his job and was very caring and attentive. It was by far the best diving experience we had in the Seychelles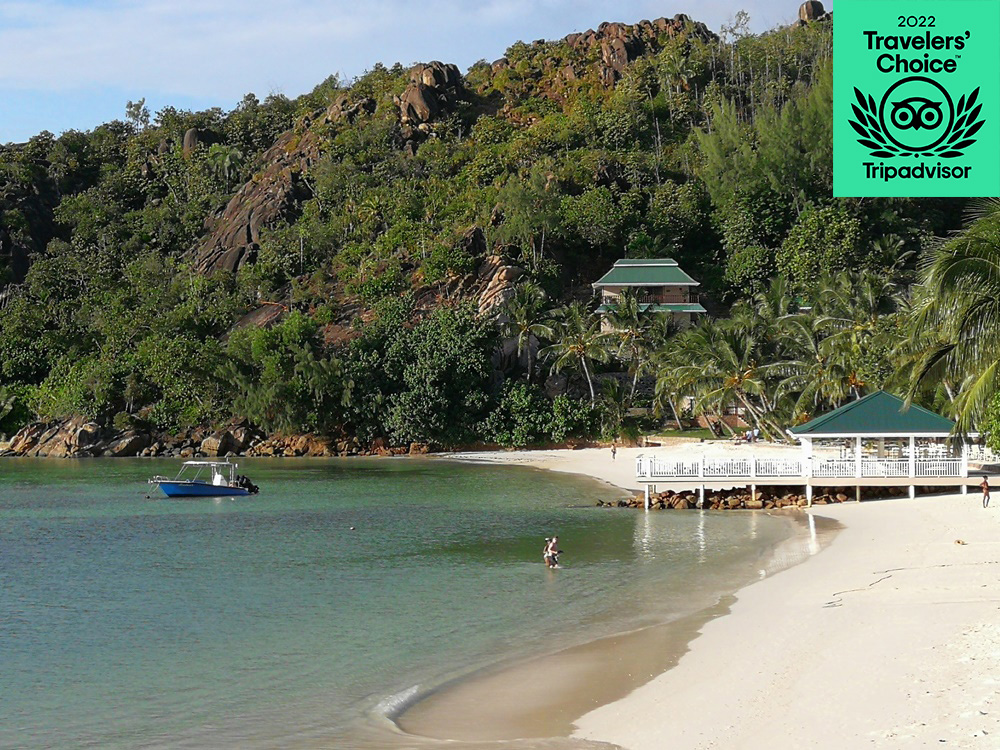 About Us
Praslin ProDivers Dive Center was founded through the passion of its owner who wanted to share his love of the ocean and the Seychelles underwater world with other divers as well as non-divers.
"We are not just passionate about the ocean, your safety and enjoyment are our top priorities.
With an emphasis on education, conservation and responsible dive practices we invite you to visit Praslin, dive with us here at Praslin ProDivers Dive Center and experience the colourful side of life."
Dive Center
The dive center is located on the beautiful beach of Anse Gouvernement, Praslin Seychelles at Hotel  L'archipel, where you can book your stay or spend the afternoon at the beachfront restaurant with great food and a wide selection of cocktails.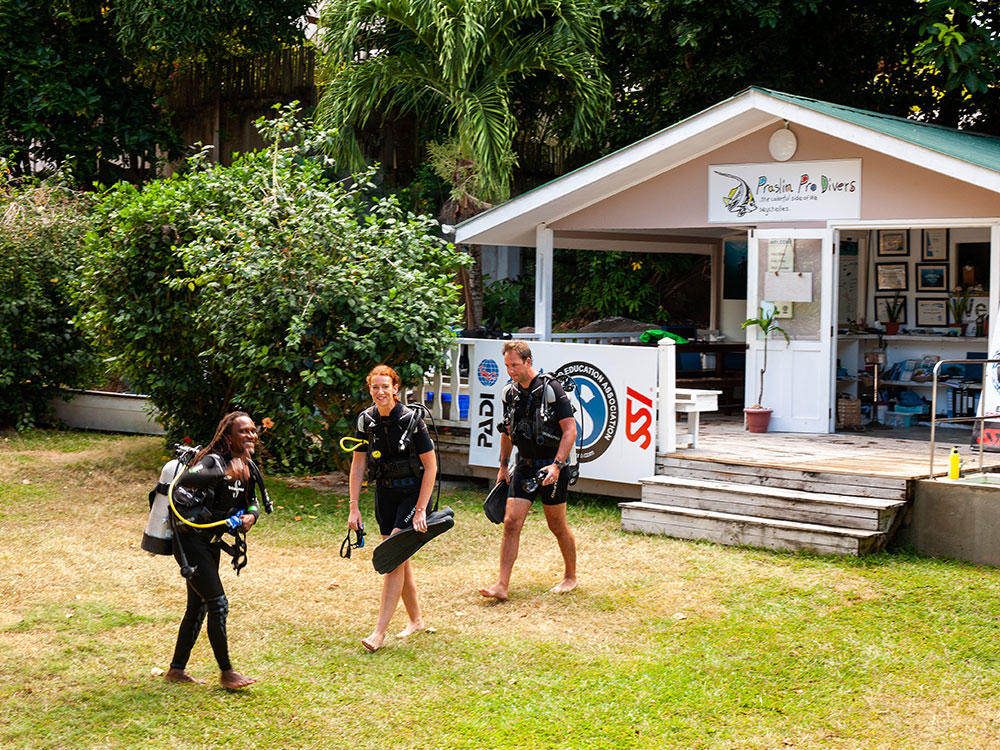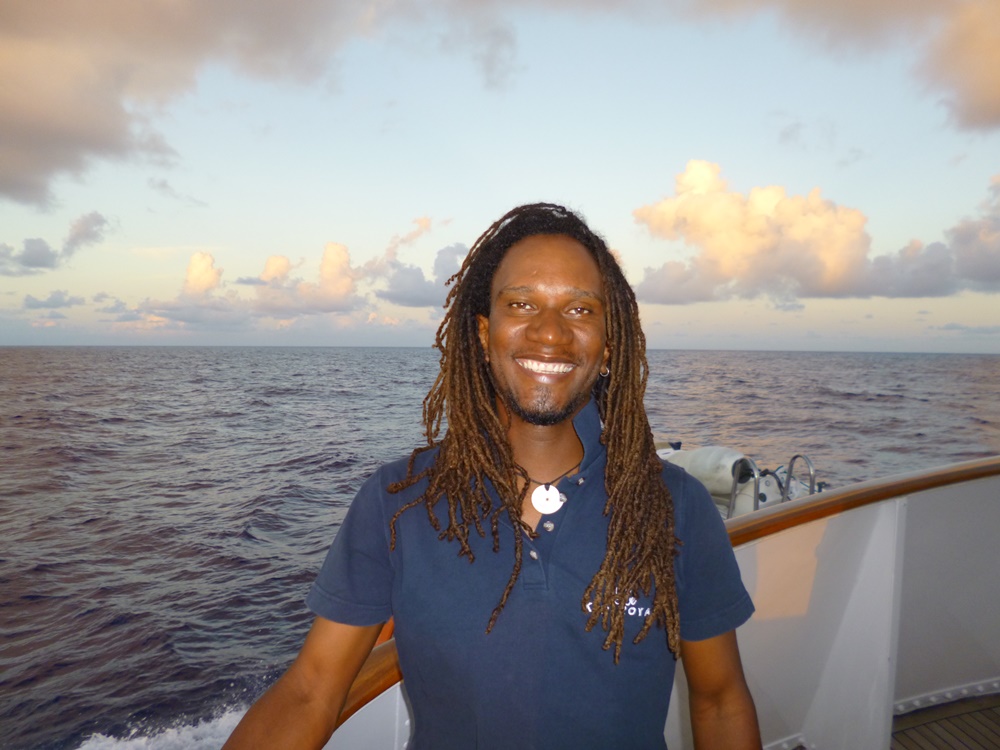 The Team
Jean-Paul, the owner, and his team have been in the diving industry for more than twenty years, with over 4000 logged dives to date. He knows the local dive sites like the back of his hand and you can rest assured that your safety is his number one priority.
We have a pool of competent freelance instructors and dive masters who assist and work with us throughout the year and help us in the daily operation of the dive center.